Ukraine segregated foreign artists into groups of "black" and "white". Henceforth the "black" can't enter the country, while the "white" are met with open arms. RuBaltic.Ru decided to see what Western stars from Ukraine's friends list did and who is not on that list.

A Threat to National Security
The number of celebrities banned in Ukraine is steadily rising. At the end of 2014, the stop-list of the Ukrainian Ministry of Culture listed 14 Russian artists, including singer Joseph Kobzon, satirist Mikhail Zadornov, actors Mikhail Porechenkov and Ivan Okhlobystin. Now Ukraine's "unfavourables" list consists of 117 people. The ban hit American actor and martial artist Steven Seagal, Serbian director and musician Emir Kusturica and French actor, and since recently – a Russian citizen, Gérard Depardieu. And that is not all, SBU prepared an extended list of "dangerous" artists and culture activists, which included 567 names. There are propositions of increasing the "black list" from the social activists, who are picketing in front of the Ministry of Culture. As the Ministry explained to German media, all of these people are a threat to the country's national security.
Lists of people banned from entering a certain state are fairly common, but balancing that with a parallel list of most favoured and distinguished people is a novel practice in world politics. The "White list" turned out twice as short than the "black" one – just 34 names. According to Culture Minister Vyacheslav Kyrylenko, the people in the "good" list will be given "maximum support" during their stay in Ukraine. And the point of the idea is to express the gratitude during the time they spend in Ukraine. This step of the Ukrainian government in supporting their allies was so nontrivial, that the newfangled "whites" like Basilashvili (#4), Shevchuk (#7) and Zhvanetsky (#10) instead of rejoicing their privileges, were just dumbfounded. And yet the publication of the "white list" is a kind of gesture to Russian celebrities, who have a pro-Ukrainian stance, and a signal to their foreign colleagues: we remember you, we love you, you are important to us.
Who is in the list?
Naturally, support from world-class stars can be great PR for any undertaking. In order to demonstrate the appreciation of the overseas bomonde, the Ministry of Culture had to search every nook and cranny, and finally they found eleven celebrities, who managed to say something positive about Ukraine in one way or another. Western celebrities are more interested to dump buckets of ice water on themselves in order to fight amyotrophic lateral sclerosis, rather than join in on the political battles in Kiev's center. American actress Hayden Panettiere was brought to the Maiden by her boyfriend Wladimir Klitschko. Others did episodic expressions of sympathies to the protesters in social networks and making short video messages. That way, Arnold Schwarzenegger got the proud title of Ukraine's friend for a 10-second clip of him wishing luck in "the peaceful struggle for democracy and freedom". A similar message was made by actress Vera Farmiga, a daughter of Ukrainian immigrants, sent her prayers to the people on barricades, the lead of Scorpions Klaus Meine congratulated the protesters right from the sound-recording studio. Martin Gore from Depeche Mode threatened to take action and make a concert on 26 February in Kiev, but it was cancelled at the last moment due to security concerns. Most of "whites" praised Maidan in December and January, while Kiev was relatively calm and there was no bloodshed, so their words are of peaceful protest without resorting to violence. After the revolution, with the events in Crimea and Donbass, the celebrities enthusiasm dwindled considerably. Civil war, separatism and accusations of Russian aggression in hybrid war are not something foreign celebrities prefer to comment on.
Film directors Pedro Almodóvar and Wim Wenders earned the new Ukraine's favour just for speaking out in defense of their colleague Oleg Sentsov, who was arrested in Crimea by Russian secret services. They wrote a letter to Putin asking him to free Sentsov. Along with these, two dozen other European film directors signed the letter. Why Ukraine singled out only these two is unknown. Either the Ministry was making the list in a hurry or just picked two of the most prestigious names. And, in Wenders' case, it must have been his position as president of the European Film Academy that decided it. And Almodóvar is the more trendy and fashionable director for the wide audience, he is way more famous and recognizable than say the Finnish Aki Kaurismäki, Hungarian Béla Tarr or the German Volker Schlöndorff. Among other signees of the petition to free Sentsov were Andrzej Wajda and Krzysztof Zanussi. Alongside uncovering Bolshevist crimes, both of those consistently spoke out against the savagery of the Bandera followers, calling them terrorists. Discussing the movie, dedicated to the Volhynian massacre in the 40s, which was carried out by the Ukrainian nationalists, Wajda said: "Such a film is very important now, when Ukraine is in a middle of this mad glorification of the war criminal Stepan Bandera. I would have never thought that I would live to see this shameful event." Zanussi, in turn, was arguing with the intelligentsia in his homeland, who refuse to visit Moscow due to Ukraine, and declared that culturally boycotting Russia won't lead to anything. Naturally, despite the support of the Ukrainian activist in prison, neither Zanussi, nor Wajda, author of the "Katyn" movie, are not on Ukrainian Ministry of Culture's good side.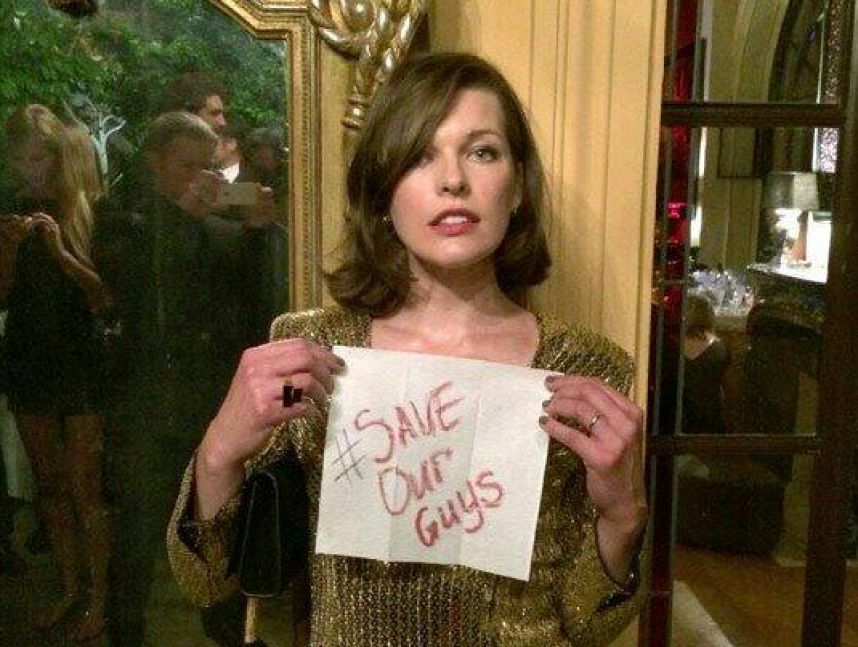 Along with them, separate friends of Ukraine were spotted partaking in actions, which Kiev would consider unpatriotic. Number 33 of the "whites" is Milla Jovovich. A Kiev native, Mila praised Maidan and even tried to support it by collecting money for the suffering revolutionaries via Facebook. And a month later, the actress was showing off and posing in Cannes with a #SaveOurGuys banner, calling for the immediate release of LifeNews journalists Oleg Sidyakin and Marat Saychenko from SBU custody. It turns out that the Ministry of Culture turned a blind eye to Jovovich happily protecting the journalists, who Kiev considers spies and saboteurs, instead of demanding the end of Crimea's occupation.
Another curiosity is the inclusion of Jared Leto as #28 of the "white" deck. The actor, rebel and frontman of 30 Seconds to Mars, who loves to support protests in all parts of the globe.
While accepting his Oscar, he wished luck to the people protesting in Venezuela and Ukraine. After the revolution, he visited Kiev with a concert, walked the Maidan, felt the ambiance of freedom and told the public: "You guys are at the start of something beautiful". But he didn't last long. After throwing a flare and dancing with a Ukrainian flag to the chants of "Glory to Ukraine!" in Kiev, the singer rode to Russia, where he quickly changed from a Ukrainian revolutionary to a typical Russian vatnik. He changed the blue and yellow banner for the Russian tricolor, which he actively waved around in Moscow's Olympic Stadium, wore an ushanka hat, tried to speak Russian and confessed his love for Russia, said he wanted to be Russian, while he is in Russia, asking them to think up a Russian name for him (they decided on "Zhora Letniy"). Leto was showing tons of positive emotions towards the "aggressor country". He continued on in other Russian cities, where he also went up on stage with a Russian flag, was in awe of the Russian birches and publicly committed other "anti-Ukrainian" actions. The schedule of his Love, Lust, Faith and Dreams Tour is also fairly indicative – two performances in Ukraine and 21 in Russia. It is hard to imagine what would happen if Okean Elzy frontman Svyatoslav Vakarchuk took a Russian flag in hand during his shows. At one point, nationalists from the Right Sector sabotages Ani Lorak's concerts just because she went to Moscow. But Leto had different rules – supported the Maidan and that is that. The flag of the country, whose influence was protested on that very same Maidan is unimportant.
Who is not in the list?
Another question is why some people are not in the white list. It doesn't include celebrities, who were just speaking out for peace, union and tolerance within the country, without taking sides. For example, Hollywood actress of Ukrainian descent – Olga Kurylenko. Mila Kunis, another famous American actress with Ukrainian roots is also not among the "white". She didn't support Maidan, but just said that the events on her historic homeland were breaking her heart and she was hoping for change. In her own words, Kunis' family left Chernivtsi due to nationalism. In 2012 she was unknowingly part of a political scandal in Ukraine, when Ihor Miroshnychenko from the nationalistic Svoboda party (after the revolution, he was also famed by battering the head of the National TV company) came down with an anti-Semitic tirade aimed at Kunis. After this, Miroshnychenko along with Svoboda's leaders made it into the "World's Top 10 anti-Semites", according to the Simon Wiesenthal Center. And the actress now flies into a rage, when reporters try to ask her about Ukraine.
Not counting George Clooney, there are no world class celebrities among Ukraine's friends, even among the ones who are traditionally considered politicized, like Bono, Sting or Paul McCartney. Celebrity activism is a fairly common thing. Since the 70s, Western stars have always taken part in anti-war or awareness campaigns on AIDS, poverty, hunger, deforestation and tried to get the masses' attention to the conflicts in Africa and South-East Asia. Even now, Hollywood and musicians acutely react to world events, whether it is the situation in Palestine, Ebola or the recent barbaric murder of a South-African lion by an American hunter dentist. The name of U2's frontman Bono (Paul David Hewson) has almost become a synonym for a politically "loaded" star. Aside from philanthropy, Bono also dabbles in politics: he was friends with Dalai-lama, spoke out against apartheid, dedicated songs to Nelson Mandela and Burmese dissident Aung San Suu Kyi, helped the organization tending to families affected by Chernobyl. In the early 90s he did a lot to popularize the Bosnian war in the Western consciousness and drew attention to the besieged Sarajevo. On concerts he made video feeds to the city and together with Luciano Pavarotti recorded the song Miss Sarajevo, with became an anti-war anthem. During the Maidan, there were rumours that U2 would have a New Year's concert in Kiev, during which Bono would present a song written specifically for Ukraine. But one of the most famous rock stars of the planet didn't come to Kiev and wasn't interested in Maidan at all. Currently he is more interested in raising money to help the poor in Africa and people with bad eyesight.
The white list of the Ministry of Culture is also devoid of stars, who are considered some of the most vocal critics of Putin – Madonna and Lady Gaga. Madonna, known as an ardent critic of USA's war in Iraq and US militarism in general asked Yanukovich to free Timoschenko, but the Russian government gets her wrath as well at times. At one point, the singer even said that fascism is flourishing in Russia on Twitter. Later she extended her worried to all of Europe, where, according to her, there is a threat of fascism and anti-Semitism resurging. But her main field of expertize are women and LGBT, so this means a lot of criticism towards Putin. In recent history, Western celebrities have routed and united against Russia over "Pussy Riot" and the "anti-LGBT law". Then the accusations towards the Kremlin were non-stop. There were calls to boycott Russia, they wrote joint letters. Nothing of the sort happened during the Euromaidan, nor during Crimea or the war in Donbass.
So the creation and publication of supportive "white" welcome lists is not only a silly, absurd and convoluted idea, but also an empty gesture. Celebrities may be powerful allies in information wars, but it turns out that the Western artists have the Ukrainian people's European choice and the Revolution somewhere down on the list after the sexual minority rights, women's right and the starving children of Kongo.
Translated by: Pavel Shamshiev