The Russia-Belarus military exercises Zapad-2017, dedicated to operative compatibility of varying level HQs as well as the prospect systems of staff and weaponry control have completed. The openness of information on the exercises and statements from high ranking officials on both sides have not stopped the Western media and officials from doing a campaign to discredit the maneuvers throughout the year. They accused Russia and Belarus of preparations to annexing territories and attacking neighboring countries. During a Moscow-Minsk conference call, international relations and foreign policy experts tried to answer the question of what NATO's interests in post-Soviet space are, and what we should expect in the burning and "frozen" points of instability in former USSR territory. The event also had the presentation of the Russia-Belarus report "NATO Interests in the West Flank of the Post-Soviet Space" prepared with the support of the Prospective Integration Research Center (Russia).
Despite the fact, that Russia-Belarus exercises happen regularly, the media storm levels are unusual, which all the experts agreed on. CEO of the Center for Socio-Political Studies "Russian Baltic" Sergey Rekeda called these processes "political Tolkienism":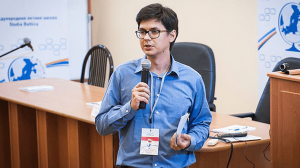 Sergey Rekeda
"The Russia-Belarus exercises caused quite a stir within the media. The exercises are seen as pretense to occupy countries – Belarus, the Baltic republics and Ukraine. Hyping up the media storm – is a provocation, aimed to attract attention to Ukraine's, Poland's and the Baltics' point of view and NATO's own problems with security, which were revealed with Donald Trump's election as US President."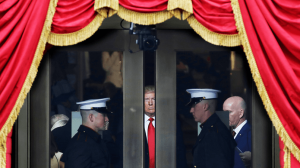 Donald Trump before the ceremony
Today, the Baltic and Black Sea regions, the Western flank of post-Soviet space are the de facto "competition against Russia space", where they attempt to lessen and negate its influence.
What must Russia do? – "Build up its policy and act, based on analysis of NATO's true interests in the region, and not the media noise. In my opinion, this stance is holding up," added Sergey Rekeda.
NATO interests clash directly with Russia's interests not only in the Baltics, but also in the Transcaucasia region. Armenia's refusal to participate in the multinational exercises in Georgia was called a "storm in a glass" by Sergey Markedonov, associate professor of RSUH (Russian State University for the Humanities) Department of Foreign Region Studies and Foreign Policy. In reality, the presence of Armenian army in the Agile Spirit–2017 exercises was supposed to be quite modest.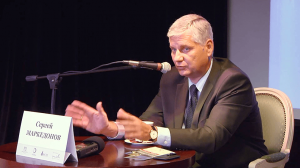 Sergey Markedonov
NATO-Russia relations are interesting in the sense that there are serious differences in how Moscow and Brussels view "security". European security is seen by Brussels as a NATO and EU security. Moscow sees as a "Russia + NATO" formula."
In his speech, Sergey Markedonov also noted, "Speaking of NATO's interests, in Russia we have a NATO-centrist viewpoint. We look at what NATO wants to do as a whole, forgetting that Georgia, Ukraine, Moldova, Azerbaijan and everyone else have their own interests in cooperating with NATO. And these are very different interests.
For example, Armenia is our ally in CSTO (Collective Security Treaty Organization). It is called the forward post of Russia in Transcaucasia, as it is the only country in the region with Russian military presence. Armenia, which is part of the Nagorno-Karabakh conflict, can't allow Azerbaijan to monopolize this issue in talks with NATO. Azerbaijan has a similar interest."
Markedonov also addressed the Moldovan situation. "Meanwhile, Moldova has a duality of power. President Dodon recently banned the participation of Moldovan military in neighboring Ukraine's territory, while the cabinet approved their participation a day later. Along with this, both of those flanks think that Transnistria must be a part of Moldova, except one side bets on the West, while the other bets on Russia. President Dodon doesn't have a lot of space to maneuver in."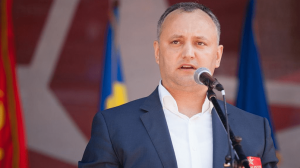 Igor Dodon
The general motive of the NATO Interests in the Post-Soviet Space Western Flank report was that NATO lacks a universal model in its relations with post-Soviet partners, which is due to those countries' aspirations.
"The NATO factor is an internal policy factor in post-Soviet countries. It is used to measure patriotism, which is especially relevant for Ukraine," note Markedonov.
Associate Professor of the Post-Soviet Studies Department of RSUH Alexander Guschin added to his colleague's speech that, "NATO's policy towards its partners and fellow NATO members differs greatly, there is no Bloc unity to speak of."
The expert also spoke of the Alliance's relations with Ukraine.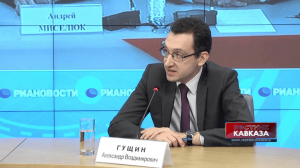 Alexander Guschin
"The Summer events in Ukraine show that all of the talks of USA and NATO abandoning Ukraine or leaving it are greatly overblown. Even though there is a new administration in Washington, Americans still see Ukraine as an important foreign policy outpost and an instrument in containing Russian in post-Soviet space.
NATO's activity on the Ukrainian Black Sea coast and a visit by Mattis (United States Secretary of Defense - RuBaltic.Ru note), his part in the celebrations of Ukraine's Independence Day only prove the aforementioned point."
Alexander Guschin also suggests that: "In the foreseeable future, Ukraine won't be a NATO or European Union member, which is confirmed by the results of the summer Ukraine-EU Summit. The question of whether or not to give Ukraine lethal weapons still remains open. Cooperation will continue, but there are no more talks of large free weapon shipments. Many things will depend on the situation in the conflict zone – whether it will be frozen or smoldering, will there be serious escalation – depending on that, NATO and Kiev's relationship will change."
As it was mentioned earlier, the situation remains unstable in Moldova. The government is showing that it pays no attention to the statements of President Dodon. A media storm is gathering around Transnistria. USA have announced a tender for construction of a military site in Moldova, its infrastructure will allow them to practice combat in urban environments. The construction of this site is part of preparing Moldova's national army and also shows a threat of the Transnistria's conflict unfreezing, which is cause for alarm, according to another expert.
The press conference was continued by Belarussian experts. Director of the nongovernment analytical center "Actual Concept" Alexander Shpakovsky characterized the so-called "independent media" as completely dependent on international governments and said that it is his opinion, that they were the ones who conducted disinformation ops in Russia's and Belarus' media space.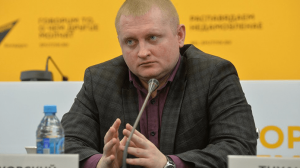 Alexander Shpakovsky
"Just in 2017, NATO has planned 28 military exercises at Russian borders, which will include 60 thousand troops." said Alexander Shpakovsky.
The expert noted the following, "The Union state of Russia and Belarus is an object of influence in the media confrontation, and it is the one who needs to catch up. Even though the Zapad-2017 exercises were planned, similar exercises have been conducted for a while and show the unity of the Russia-Belarus union and its military power.
Complaints to Belarus are that their territory will permanently house Russian troops and gear in order to strike in Vilnius, Kiev or Warsaw's direction, are heard from states, that have voluntarily and on their own request have already housed military contingents on their territory. Realistically, these are states with limited sovereignty."
De facto, today Moldova is not a neutral state, but drawn into the NATO context and has HQs and military command integrated with Romania. According to Alexander Shpakovsky, the duality of power between the president and the cabinet will escalate after the 2018 parliamentary elections.
"Moldova today, in essence, is a divided state. If the main players of the Euro-Atlantic community won't abandon the confrontation logic, then, quite possible, Moldova will be faced with a civil conflict, a-la Ukraine," noted Alexander Shpakovsky.
Director of the Foreign Policy and Security Research Center Sergey Palagin drew attention to the tactical elements of the current confrontation: "When we talk about 28 NATO exercises at Russia's borders, then we forget the troops that are on regular rotation in the Baltics and Poland. These could be, without any doubts, viewed as participants of these exercises. They also have had the required military training, in order to conduct military expansions or other unfriendly actions."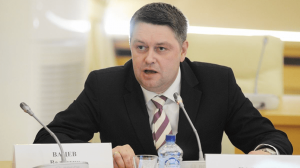 Sergey Palagin
According to Serget Palagin, NATO's actions in Belarus, for the longest time seemed like a "gentle teddy bear": experience exchange between ministries of defenses; training to provide relief during natural and manmade disasters; scientific projects.
"NATO's main interest in Belarus is to distance Republic of Belarus from the Russian Federation in the military sector," said the expert, "However, there were no events that would discredit the countries in security or military cooperation. That is how it will remain."
So the question arises: What will happen when the Russian troops leave Belarus once the exercises will be done? Sergey Palagin said, "We will lose again, and someone will get a medal. That is NATO's strategy." They will ask 'Why did Russia leave Belarussian territory and didn't continue its advance to the Suwalki Gap?' and the question will be answered with 'Because all of this media storm started. Russia got scared.' "
According to Sergey Palagin, after the Zapad-2017 exercises, relations between Russia and the West won't be any simpler: there will be new excuses for the media. "They probably already have them," the expert concluded.
That way, Russia-NATO relations continue to have the decisive meaning for All-European security system and influence the post-Soviet states internal policies significantly. The post-Soviet countries are interested in supporting specific relations with NATO. And in this situation, Russia must remain vigilant. The Russian leadership must continue to prove efficiency to their former USSR partners and show them why it is in their best interests to have trustworthy relations with them.
The Russia-Belarus analytical report "NATO Interests in the West Flank of the Post-Soviet Space" was done with the support of the Prospective Integration Research Center (Russia).
Translated by Pavel Shamshiev
Статья доступна на других языках: