The West admits that the anti-Russian sanctions aren't working and are doing controlled leaks of rumors that they could cancel the sanctions if Moscow meets them half-way. However, the failure of the sanctions is that Moscow ignores such rumors and doesn't talk about lifting the sanctions. The sanctions stopped being a critically important factor for the Russian economy and the Kremlin has no need to discuss sanctions on an international level: the West imposed them and the West well lift them, Russia will not bargain for it.
According to The Daily Beast, March 2017, the White House was in favor of lifting sanctions from Russia in the oil sector. Acting and former staff of the US President Administration said that economic analysis shows that the sanctions have not had any significant influence on Russia.
At the same time, Trump's National Security Advisor H.R. McMaster was insisting that the decrease of oil products from Russia might have a negative impact on American economy.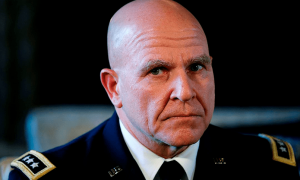 Herbert McMaster
"He (McMaster's senior official for strategic planning Kevin Harrington – RuBaltic.Ru) did an economic analysis of what the Russian sanctions are doing. He said according to his analysis, they weren't causing any significant pain. His view was, if these sanctions are harming our economy without putting any pressure on Russia, what's the point?" said The Daily Beast's White House source.
If the sanctions are harmless to Russia and harmful to America, then wouldn't it make sense to lift them, this seems to be logical conclusion that Trump's team arrived at. However, the foreign policy establishment doesn't agree with the logic of the administration: state dept. representatives are categorically against lifting the limitations, thinking that this would be seen as endorsing Russia's foreign policy and not getting anything in return for America.
Rumors of Donald Trump's readiness to lift the sanctions from Russia have been circulating Washington for more than just a month. Former State Department staff Daniel Fried, who headed sanction policy questions until February 2017, in a Yahoo News interview stated that almost as soon as Trump assumed office, he ordered proposals on lifting anti-Russian sanctions.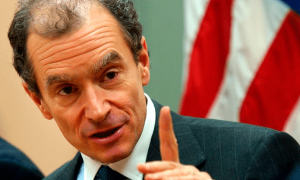 Daniel Fried
Then Daniel Fried addressed US Congress, calling them to immediately adopt a law which would make lifting sanctions as hard as possible for the US President. The Congressmen heeded the call and adopted the project.
The most noteworthy here is that Russia ignores this busywork of Washington: rumors of the sanctions being lifted or prolonged are viewed as internal political fighting in USA, and Moscow just ignored all of this sanctions talk, as if they are not even mentioned.
So, Russian diplomacy now reacts to sanctions like this all the time. The question of sanctions is no longer part of Russia's agenda for international talks. The sanction issues are being forced into the agenda by the "Western partners" which imposed them, rather than Russia.
The Russian side only talks of sanctions in year-end press conferences, and even that only because journalists ask about them (usually Western journalists). "Sanctions helped Russia turn its brain on instead of just trading oil and gas, they pushed for structural changes for economy," said Russian president Vladimir Putin at the St.Petersburg International Economic Forum.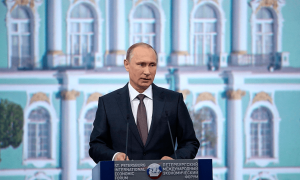 Vladimir Putin
Before that, the Russian leader said the counter-sanctions would continue until the West lifts their sanctions, "If they keep them up forever, then we will forever limit access to our market to those products that we can produce ourselves."
"How can new sanctions against Russia, discussed by G7, help improve the situation in Ukraine?" a French journalist asked Putin during his meetings with French president Emmanuel Macron in Versailles. And Putin replied "They won't help at all. Sanctions don't help anyone."
Lifting sanctions is not a bargaining chip for Russia. Russia's oft-repeated stance on this: The West imposed the sanctions, and they will be the ones to lift them with Russia not even discussing this issue.
This turns into a rather funny situation. The country who has had sanctions imposed against it acts as if the sanctions have nothing to do with it, and talks of their lifting also are nothing to it. The countries, who wanted to punish Russia with sanctions are now communicating via controlled leaks and hints that maybe they kind of want to lift sanctions in exchange for concessions from the Kremlin.
But no invitation for political bargaining comes in. The sanctions are not our problem. You adopted them – you lift them.
Along with this, the West fully admits that the sanctions' pressure is ineffective and even hurts their economies. Including the American economy. But bravado and the fear of losing face prevent them from actually lifting the sanctions. They think that if they lift sanctions from Russia today without the Kremlin conceding, then how can they ask countries to join in sanctions against Iran or North Korea tomorrow? How to build a dialogue with Russia, when they promised to negotiate from a position of power, while they are backtracking without making Russia change its ways?
This goes like the old hunters joke. "Have you caught the bear?" – "Yes I have!" – "Then bring him here!" – "Can't! He's heavy!" – "Then you go back yourself!" – "Can't! The bear won't let me!"
The West is a victim of its inadequate perceptions of its own importance in world politics, which made it impose sanctions and try to talk to Russia from a position of power for all these years.
Western politicians have delusions of grandeur, so they can't understand that the offers that they throw at Russia as bargaining chips are laughable at best. Late last year, USA started a rumor that president Donald Trump will give Putin back a seat in G7 in exchange for Russia giving up nuclear weapons. A complete joke of a proposal. And it is not because of the nuclear weapons.
Russia's membership in G7 can't be something to bargain for in principle, because G7 has lost its relevance in global politics a while back. True importance in global issues has shifted to G20 – the first institution of a multi-polar world forming before our eyes.
And the Seven is an internal elite club of Western leader countries, which can decide the fates only of the Euro-Atlantic community, but not the whole world. So offering to bring Russia back to G7 in exchange for its nuclear arsenal – is the height of inadequacy in viewing oneself and the international landscape.
It is the same with sanctions. Limitations caused a crisis in Russian economy and were quite harmful. But they were not lethal. The Russian economy was not in tatters, despite Barack Obama saying so, it learned to work with the sanctions in place.
What countries in the history of international relations have actually changed their foreign policy due to sanctions? Probably only some "banana republics," which Russia definitely isn't. Sanctions against Iran were a lot stricter and have been in place for decades. And during said sanctions, Iran conducted its modernization from an agrarian country into an industrial power – one of the world's biggest economies in terms of national production.
Small Belarus was under on and off sanctions during 20 years. And time after time the European Union lifted said sanctions, not expecting Minsk to budge.
And what needs to be said about Russia – the world's biggest country, which can live and prosper under sanctions forever?
So news of the EU Council once more prolonging sanctions against Russia for six months is not really important to Russia. No one discusses or comments on it, they are not the top news of the search engines and media outlets.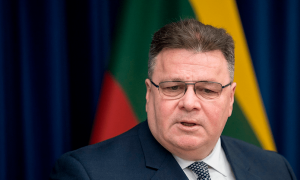 Linas Linkevičius
When an MFA from some kind of Lithuania calls for harsher sanctions against Russia, this is newsworthy for Lithuania, but not Russia. And the same MFA bitterly mumbles that the sanctions are not having the intended effect, and then proudly states that the three Baltic countries have suffered the most losses due to counter-sanctions but they are not among those discussing lifting these sanctions. This is just another reason for the few people in Russia who actually follow Lithuania to question the Baltic politicians' sanity.
So they can keep pissing into the wind. Russia doesn't give a damn about all of the busywork surrounding prolonging, expanding, strengthening or softening the sanctions, etc.
They are the ones treating the sanctions like some big deal. Russia simply forgot about your sanctions.
Translated by Pavel Shamshiev
Статья доступна на других языках: